Victorious is an American sitcom created by Dan Schneider that originally aired on Nickelodeon from March 27, 2010 to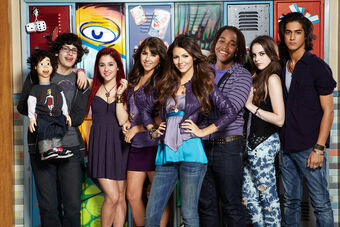 February 2, 2013. The series revolves around aspiring singer Tori Vega (Victoria Justice), a teenager who attends a performing arts high school called Hollywood Arts High School, after taking her older sister Trina's place in a showcase while getting into screwball situations on a daily basis. On her first day at Hollywood Arts, she meets Andre Harris, Robbie Shapiro, Rex Powers (Robbie's puppet), Jade West, Cat Valentine, and Beck Oliver. The series premiered on March 27, 2010 after the 2010 Kids' Choice Awards. The first soundtrack for the series, Victorious, was released on August 2, 2011. The series won for Favorite TV Show award at the 2012 Kids' Choice Awards, even beating out iCarly. Victorious has had four Emmy nominations. Its second soundtrack, Victorious 2.0, was released on June 5, 2012.
Ke$ha guest-starred in an episode of Victorious, titled "Ice Cream For Ke$ha".
Ad blocker interference detected!
Wikia is a free-to-use site that makes money from advertising. We have a modified experience for viewers using ad blockers

Wikia is not accessible if you've made further modifications. Remove the custom ad blocker rule(s) and the page will load as expected.