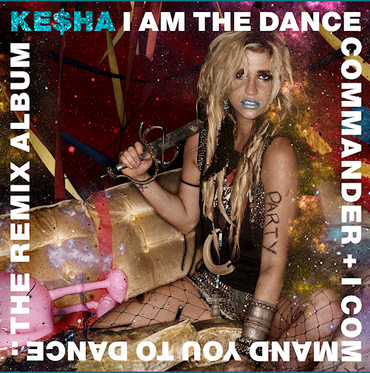 I Am the Dance Commander + I Command You to Dance: The Remix Album is the first remix album by Ke$ha, released on March 18, 2011. It was first announced on February 23, 2011. The album contains nine remixes and one previously unreleased track, "Fuck Him He's a DJ". The CD includes featuring appearances from André 3000 and 3OH!3.
According to Ke$ha, the album's release is intended to be a play on her party girl image; her image is commonly percieved as being drunk all the time when in actuality her lifestyle is about enjoying life and having fun no matter what the cirumstances.
Composition
Edit
I Am the Dance Commander + I Command You to Dance: The Remix Album is an electronic album that draws influence from the dance-pop genre. "The Sleazy Remix" features rapper André 3000, who raps over the song's "bouncy thump" beat talking about a young child dealing with his deadbeat father, "We start out so cute in our baby pictures/ That mama shot for our daddy so that he wouldn't forget you/ He forgot anyway, but hey, one day he'll remember/ If not, he's human, I'm human, you human, we'll forgive him." André then transitions into a rap about his relationship with Ke$ha before she takes over the rest of the song. switch's remix of "Animal" features "Squealing electronic flourishes" similar to his contribution to British rapper M.I.A.'s "Steppin' Up", turning the originally upbeat track into an "eerie, echoey lament".
I Am The Dance Commander + I Command You To Dance Track List
Edit
TiK ToK (Chuck Buckett's Veruca Salt Remix)
Ad blocker interference detected!
Wikia is a free-to-use site that makes money from advertising. We have a modified experience for viewers using ad blockers

Wikia is not accessible if you've made further modifications. Remove the custom ad blocker rule(s) and the page will load as expected.