"
Dinosaur
" (stylized as
D.I.N.O.$.A.U.R.
) is a song by American recording artist and songwriter
Kesha
, taken from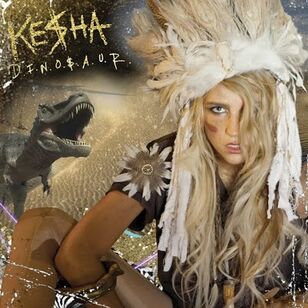 her debut
studio album
Animal
(2010). The song was written by Kesha in collaboration with
Max Martin
and
Shellback
; the latter two also produced the song, while all three are responsible for the instrumentation. The song's conception stems from an encounter Kesha had with an older man that had been hitting on her, which she compared to a prehistoric dinosaur. "Dinosaur" is a
dance-pop
song that lyrically discusses an older man that is attempting to hit on a younger female, which is ultimately rejected. The song received generally negative reviews from
music critics
. Upon the release of
Animal
, "Dinosaur" charted on the lower regions of the extended
UK Singles Chart
, and the
South Korea Gaon International Chart
, peaking at 180 and 107, respectively.
Writing and inspiration
Edit
"Dinosaur" is a song written by Kesha Sebert, in collaboration with
Max Martin
,
Shellback
; the latter two are responsible for the song's production. All three composers were responsible for providing the song's instruments. The song's recording was commenced at
Maratone Studios
, in Stockholm, Sweden, by Martin and Shellback. While being interviewed by
Rolling Stone
, Kesha was asked about her writing technique and how her songs come to fruition, which she explained using "Dinosaur" as an example. The singer explained that the song's conception was auto-biographical and that it stemmed from a previous experience she had when an older man had been hitting on her, which she elaborated on: "I just write about what I live — literally, my entire record is totally autobiographical, because I think there's a great pop song in anything and everything, any situation. There's a song called 'Dinosaur' about this old guy who was hitting on me, and his toupee was kind of falling off, and I was like, 'Oh my God, you're so old, you're prehistoric, you're like a dinosaur. D-I-N-O-S-A-you are a dinosaur.'"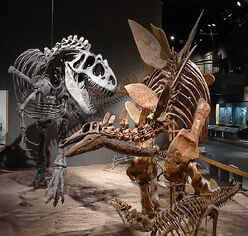 Composition
Edit
"Dinosaur" is a song composed in the dance-pop genre. According to digital sheet music published at Musicnotes.com by Sony-ATV Music Publishing, the song is written in the key of E major and the tempo moves at 128 beats per minute at a jungle beat. Kesha's vocal range in the song spans from the lower note of E4 to the higher note of D5. The song encompasses keyboards, a cowbell, and a whistle in its production, the latter of which has been described as a "whistle-synth." The song's lyrics revolve around an older man who is attempting to persuade a younger girl to leave the club with him, to which the protagonist responds with "a scattergun spray of insults."
Rebecca Blissett of The Georgia Straight described the song as a "percussion-bombed snot-rapper". According to Andrew Burgess of musicOMH, "Dinosaur" features a "Mark Mothersbaugh-like whistle-synth" and focuses on "the grossness of older men hitting on younger girls". Burgess cites the line "a carnivore, you want my meat, I know it" as evidence for this. The UrbanWire's Cheryl Chia noted that the song is reminiscent of "Girlfriend" by Avril Lavigne, as well as Gwen Stefani's "Hollaback Girl". According to Althea Legaspi of The Chicago Tribune, "Dinosaur" contains "lyrical merit in that most women have experienced unwanted advances from a creepy way-too-old man".
Music video
Edit
D-I-N-O-S-A, you are a dinosaur
D-I-N-O-S-A, you are a dinosaur
An O-L-D man, you're just an old man
Hitting on me, what? You need a CAT scan
Old man, why are you staring at me?
Mac on me and my friends, it's kind creepy
You should be prowling around the old folks home
Come on dude, leave us alone
At first we thought that it was kinda ill when
We thought that you were like a billion
And still I'm tryna make a killing
Get back to the museum
D-I-N-O-S-A, you are a dinosaur
D-I-N-O-S-A, you are a dinosaur
An O-L-D man, you're just an old man
Hitting on me, what? You need a CAT scan
That's what you are
You're pretty old
Not long till you're a senior citizen
And you can strut around with that sexy tank of oxygen
Honey, your toupee is falling to your left side
Get up and go, bro, oh wait, you're fossilized
You sit down, buy me a martini
Won't go away my hips aren't sinking
Hey, you say, wanna come with me?
I'm about to barf, seriously?
D-I-N-O-S-A, you are a dinosaur
D-I-N-O-S-A, you are a dinosaur
An O-L-D man, you're just an old man
Hitting on me, what? You need a CAT scan
That's what you are
Track listing
Edit
"Dinosaur" – 2:55
Credits and personnel
Edit
Recording
Personnel
Songwriting – Kesha Sebert, Max Martin, Shellback
Production – Max Martin, Shellback for Maratone Productions
Keyboards – Max Martin
Cowbell – Kesha
Whistle – Kesha, Shellback
Credits adapted from the liner notes of Animal, Kemosabe Recordings, via RCA Records.
Image Gallery
Edit
Ad blocker interference detected!
Wikia is a free-to-use site that makes money from advertising. We have a modified experience for viewers using ad blockers

Wikia is not accessible if you've made further modifications. Remove the custom ad blocker rule(s) and the page will load as expected.