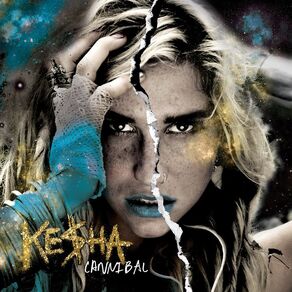 Cannibal
is the first
extended play
(EP) by American recording artist
Kesha
, released on November 19, 2010. The EP is a follow-up companion to her previous record,
Animal
. Originally, the record was thought to be released as a deluxe edition of
Animal
, but was instead sold and released as both an EP and a deluxe edition of
Animal
. Kesha worked with a variety of producers and writers such as such as the executive producer
Dr. Luke
,
Benny Blanco
,
Ammo
,
Max Martin
,
Bangladesh
and others. Musically, the songs on
Cannibal
are of the
dance-pop
genre, with some songs incorporating elements of
electro
and
electropop
in their production and beats. Throughout the album, the use of
Auto-Tune
and
vocoders
is prominent. Lyrically, the songs on
Cannibal
speak of ignoring judgement or hate and experiences based on love and heartbreak.
Cannibal received generally positive reviews from music critics. However, a common complaint amongst critics was the overuse of Auto-Tune, while the album's production was generally highlighted. The album's lyrics generally polarized music critics; some praised her boldness, while others criticized them as being too raunchy. In the United States, the EP reached a peak of fifteen selling 74,000 copies in its first week of release. In Canada, the album achieved similar success reaching a peak of fourteen on the chart. Cannibal was certified gold by the Recording Industry Association of America (RIAA) for shipment of 500,000 copies.
Two singles were released from the album. The lead single, "We R Who We R", was a worldwide success, reaching number one in the United States, the United Kingdom and Australia, and charting within the top ten in numerous other countries. In the United States, the song became the seventeenth song in the Billboard Hot 100's history to debut at number one. The album's second single, "Blow", was released on February 8, 2011. The song accomplished top ten positions in multiple countries including Australia, New Zealand and the United States.cover.
The album cover is much like the We R Who We R single
Track Listing
Edit
No.
Title
Writer(s)
Producer(s)
Length
1.
"Cannibal"
Kesha Sebert, Joshua Coleman, Mathieu Jomphe, Pebe Sebert
Ammo, Billboard
3:14
2.
"We R Who We R"
K. Sebert, Lukasz Gottwald, Benjamin Levin, Coleman, Jacob Kasher Hindlin
Dr. Luke, Benny Blanco, Ammo
3:24
3.
"Sleazy"
K. Sebert, Gottwald, Levin, Shondrae Crawford, Klas Åhlund
Dr. Luke, Benny Blanco, Bangladesh
3:25
4.
"Blow"
K. Sebert, Gottwald, Levin, Åhlund, Max Martin, Allan Grigg
Dr. Luke, Benny Blanco, Kool Kojak, Max Martin
3:40
5.
"The Harold Song"
K. Sebert, Coleman
Ammo
3:58
6.
"Crazy Beautiful Life"
K. Sebert, Gottwald, Martin, P. Sebert
Dr. Luke
2:50
7.
"Grow a Pear"
K. Sebert, Gottwald, Levin, Martin
Dr. Luke, Benny Blanco, Max Martin
3:28
8.
"C U Next Tuesday"
K. Sebert, David Gamson, Marc Nelkin
David Gamson
3:45
9.
"Animal"

(Billboard Remix)

K. Sebert, Gottwald, Greg Kurstin, P. Sebert
Billboard
4:15
Total length:
31:59
Tracklist adapted from the liner notes of Cannibal.
Image Gallery
Edit
Ad blocker interference detected!
Wikia is a free-to-use site that makes money from advertising. We have a modified experience for viewers using ad blockers

Wikia is not accessible if you've made further modifications. Remove the custom ad blocker rule(s) and the page will load as expected.