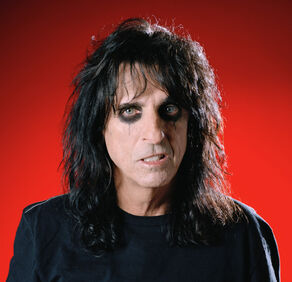 Alice Cooper (born Vincent Damon Furnier, February 4, 1948) is an American rocksinger, songwriter, and musician whose career spans five decades. With a stage show that features guillotines, electric chairs, fake blood, boa constrictors, and baby dolls, he is considered by fans and peers alike to be "The Godfather of Shock Rock"; Cooper has drawn equally from horror movies, vaudeville, and garage rock to pioneer a grandly theatrical and macabre brand of rock designed to shock.
Originating in Phoenix in the late 1960s after Furnier moved from Detroit, Alice Cooper was originally a band consisting of Furnier on vocals and harmonica, lead guitarist Glen Buxton, Michael Bruce on rhythm guitar, Dennis Dunaway on bass guitar, and drummerNeal Smith. The original Alice Cooper band broke into the international music mainstream with the 1971 hit "I'm Eighteen" from the album Love It to Death, which was followed by the even bigger single "School's Out" in 1972. The band reached their commercial peak with the 1973 album Billion Dollar Babies.
Furnier adopted the band's name as his own name in the 1970s and began a solo career with the 1975 concept album Welcome to My Nightmare. In 2011 he released Welcome 2 My Nightmare, his 19th album as a solo artist, and his 26th album in total. Expanding from his Detroit rock roots, in his career Cooper has experimented with a number of musical styles, including conceptual rock, art rock, hard rock, heavy metal, New Wave, pop rock,experimental rock and industrial rock.
Alice Cooper is known for his social and witty persona offstage; The Rolling Stone Album Guide has called him the world's most "beloved heavy metal entertainer". Cooper is credited with helping to shape the sound and look of heavy metal. Although preceded by Screamin' Jay Hawkins and his macabre stage props, he is regarded as being the artist who "first introduced horror imagery to rock'n'roll, and whose stagecraft and showmanship have permanently transformed the genre". Away from music, Cooper is a film actor, a golfing celebrity, a restaurateur and, since 2004, a popular radio DJ with his classic rock show Nights with Alice Cooper.
In 2011, the original Alice Cooper band was inducted into The Rock and Roll Hall of Fame.
After meeting Ke$ha at the 2010 Grammy Awards and guesting at a number of her concerts, rock singer Alice Cooper asked her to write lyrics for and vocally perform as a devil character for their duet track, "What Baby Wants", on Cooper's album, Welcome 2 My Nightmare.
Image Gallery
Edit